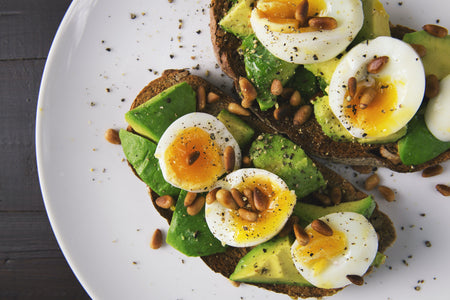 High Protein Breakfast Ideas
05.05.22
Are you trying to maintain a healthy weight or do you find yourself hungry first thing in the morning? Then you likely already know the importance of eating a high protein breakfast. As tempting as it can be to skip the meal altogether, it's the best time to get a proper serving of protein and nutrients in. And we all know how easy it is for a hectic day to prevent us from getting a healthy dinner on the table.
Eating a high protein, low carb breakfast is the best way to help balance your blood sugar and keep sugar cravings at bay first thing in the morning. As a result, you can benefit from improved focus and higher energy levels throughout the day. That means breakfast really is the most important meal of the day after all!
What is a High Protein Breakfast?

A high-protein breakfast consists of anywhere between 15 to 30 grams of protein in one meal. The amount of protein that someone needs will vary from person to person, depending on body weight, overall energy intake, and physical activity level. An online protein calculator is an excellent way to help determine how much protein you need per day.

So, if you're looking for high-protein breakfast recipes to start building your healthy breakfast routine, then read on.
7 Delicious and Healthy High Protein Breakfast Ideas
Sometimes it can seem like mission impossible to get enough protein from food alone. For that reason, it's best to mix up your breakfast routine with different types of high-protein meals.
By utilizing both protein powder supplements and nutritious breakfast items, you can intake the necessary amount of protein throughout the day. Not only is protein powder cost-effective, but it's also key to building a routine around this dietary ritual. To inspire you, we've put together a list of 7 high-protein breakfast recipes to help you start your day off on the right foot!
1. Avocado Omelet
Eggs are a no-brainer when it comes to high protein, low carb breakfast ideas for your morning meal. Throw in some avocado slices and veggies, then you have yourself one of the healthiest and most nutritious meals to start your day. A 3-egg omelet will get you close to 19 grams of protein, but you can mix in some black beans or lean meat of your choice to get closer to 30 grams. If you prefer scrambled eggs over an omelet, it's all the same when it comes to protein packed breakfast ideas for weight loss.
2. A Bowl of Surreal
If you're in need of quick high protein breakfast ideas that are tasty and nutritious, then you're in luck. Surreal is a protein-focused keto cereal with a taste that's out of this world. Unlike other cereals with empty calories, Surreal is low carb and is packed full of 15 grams of protein per serving. It's made up of ingredients like soy protein isolate, tapioca starch, stevia, coconut oil, and natural flavors as opposed to being loaded with sugar and wheat products. It's hard to believe that a breakfast cereal can be so nutritious and taste this good. Try eating Surreal with protein-fortified milk or unsweetened almond milk.
3. High-Protein Smoothie
If you're really in a rush, this quick high protein breakfast is one of the easier recipes. Blend your favorite protein powder with almond milk, a frozen banana or fresh fruit, a handful of greens, or a scoop of natural nut butter — or all of them! Protein smoothies are great because there are tons of different recipes you can make, so you'll have no excuse to ever get tired of them! Don't forget to top your smoothie off with a serving of chia seeds for a protein boost that can help you lose weight.
4. Sweet or Savory Breakfast Cottage Cheese Bowl
Are you a cottage cheese fan? Then you'll be happy to know that half a cup of low fat ↘cottage cheese contains about 14 grams of protein and only 80 calories. If you have a sweet tooth, then try topping this low calorie, high protein cottage cheese bowl with mixed berries for your daily dose of fibre. If you enjoy a more savory breakfast cottage cheese dish, then be sure to top it with fresh cucumber, grape tomatoes, bell peppers, chives, and crumbled pistachios. You can also roast the veggies and add in some black beans if you prefer to create a nutrient-packed high protein breakfast for weight loss.
5. Egg White Wrap With Spinach and Feta
This is an ideal go-to breakfast substitute for lovers of breakfast sandwiches and is perfect for meal prep as well. Just free and reheat on the go! A delicious protein-packed and low-carb combination of egg whites, spinach, feta cheese, and cream cheese give you a high-protein breakfast bodybuilding fans will love. It's as simple as scrambling up some egg whites in extra virgin olive oil, tossing in some spinach and feta cheese toward the end, then wrapping it all up in a low-carb tortilla with a light spread of cream cheese. If you can find gluten-free tortillas, then even better. A healthier version of feta cheese and cream cheese could be low-fat cottage cheese for an extra protein punch to your morning meal. This tasty breakfast is an excellent source of protein and healthy fats to keep those cravings away for hours.
6. Tofu Scramble
Whether you're vegan or not, this protein-packed tofu scramble is a delicious low calorie, high protein breakfast that is similar in taste to eggs. Just crumble a block of tofu into a pan, throw in some diced red onion and your favorite veggies, then cook it like you would scrambled eggs. What you're left with is a nutritious breakfast with about 22 grams of protein to kick off the day. Don't forget the salsa, black beans or pinto beans, and avocado if you like a Mexican-style healthy breakfast.



7. Banana Oatmeal Protein Pancakes

Are you looking for a healthy twist on everybody's favorite breakfast? Then you need these gluten-free banana oatmeal protein pancakes in your life. They have 17 grams of protein and only four simple ingredients that you likely already have at home. Plus, you can easily whip up this quick high-protein breakfast on busy mornings and then head out the door. You may even want to tweak the recipe and add in a bit of your favorite protein powder for a little extra flavor and added protein. For healthy syrup substitutes, just spread nut butter, warm strawberries, or a scoop of creamy yogurt, then hit the road.
The Bottom Line
We hope these delicious high-protein breakfast ideas inspire you to design your own morning breakfast routine. The possibilities are endless when it comes to high-protein breakfast recipes — all you really need to do is get a bit creative!

Take these ideas and add your own twist according to your liking. You can put your own healthy twist on hash browns, turkey sausage, and plenty of other easy recipes and high protein breakfasts. Be sure to get a daily serving of fresh fruit (or dried fruit!) with your morning meal as well.

By keeping all of this in mind, you'll be well on your way to getting high protein in your diet, along with plenty of healthy fats and just the right amount of complex carbs. Just watch how great you feel as your energy levels soar when you stick to your daily breakfast regimen.


Now, we want to hear from you! What are some of your favorite healthy high protein breakfast recipes?