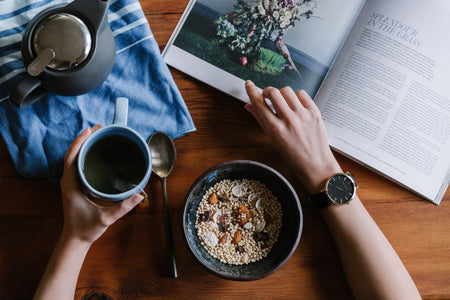 Can You Eat Cereal on a Keto Diet?
05.05.22
When you decided to start a keto diet, you knew you'd have to cut way back on carbs. That means cutting out bagels, pastries, toast, hash browns, pancakes… and of course, everybody's favourite, cereal.
...Or does it?
While it's no secret that the normal grocery aisle limits a person's options when it comes to keto-friendly breakfast foods, there's never been a better time to find a cereal that suits your low-carb needs. Since more and more people are getting into the keto lifestyle, a variety of new cereal brands are popping up that cater to that. That means you can both enjoy cereal and gain an easy breakfast idea for your busy morning routine while you're at it.
If you want to find out everything you need to know about eating cereal on a keto diet, then you won't want to miss this. Discover which brands you can eat, healthy add-ons to your morning keto cereal recipe, and what to look for in a keto cereal ingredients list. Let's jump in!
Low Carb Cereal You Can Eat on a Keto Diet
If you've ever glanced at a label on a traditional box of cereal, you probably noticed they're all packed with sugary goodness. You know, ingredients that simply aren't suitable for those who prefer high-fat, grain-free, and gluten-free cereal.
So, if you're wondering if there are any keto cereal brands available — the answer is yes. Don't go writing off your morning bowl of cereal just yet. Fortunately, there are some cereal brands that you can eat guilt-free and without disrupting your keto lifestyle.
If that's the best news you've heard all day, then you can give thanks to several new brands pioneering the keto space. Thanks to these keto cereal recipes, those who need a healthier keto version are now able to have more accessibility to fun and favourable breakfast cereals. After all, breakfast is the most important meal of the day — it should never be boring!
What Are Some Additions to a Keto Breakfast Cereal Recipe?
Are you looking for some fun breakfast add-ons that complement your healthy keto cereal recipes? This is where you have to be careful not to go overboard or add too many carbs. While many keto cereal brands already taste great on their own, sometimes they're even better with our favorite ingredients added. Here are some healthy ideas to inspire you to get creative with your low carb cereal on your ketogenic diet:
Keto Granola - Everybody loves a little crunchy granola as an addition to their delicious keto cereal in the morning. Keto granola is grain-free granola with low net carbs per serving and has plenty of healthy fats to start your day off right. We bet you didn't know a daily serving of crunchy granola was an option on a ketogenic diet! Keep in mind that many keto-friendly cereals already come with keto granola inside.
Flaxseed - Packed with omega-3 fats, dietary fibre, and cancer-reducing lignans, flaxseed should be a regular part of every morning breakfast routine. Just add one to two tablespoons to your daily keto cereal recipe and you have a nutritionally powerful breakfast that keeps your digestion running smoothly. Flaxseed also has high net carbs, making it perfect for your low-carb cereal.
Coconut flakes - Did you know that adding coconut to your keto cereal can contribute to better heart health, digestion, and weight loss? It's also fairly high in saturated fats, so be sure to sprinkle them into your cereal with moderation. Be sure to opt for unsweetened coconut flakes for a healthier alternative and to prevent you from leaving ketosis.
Chia seeds - High in nutrients and low in calories, chia seeds are an amazing addition to keto cereal, especially if you're looking to lose weight. Loaded with fibre, antioxidants, and vitamins, they're one of the healthiest foods on the planet. Add one to two tablespoons to your favorite keto-friendly breakfast cereal each day.
Sliced almonds - If you don't have a nut allergy, sliced almonds are great for adding a little extra crunch to your morning keto cereal. They have plenty of health benefits, like balancing blood sugar, reducing blood pressure, and lowering cholesterol. If you're more of a fan of pumpkin seeds, walnuts, or pistachios, feel free to substitute with them instead.
Liquid Stevia - Your favourite keto cereal recipe is likely already sweetened, but if you want more "added sugars," then liquid stevia is the perfect substitute. This healthy, sugar-free substitute can quickly become a keto version favorite.
Cocoa Powder - If you're a chocolate fan, feel free to mix a little cocoa powder into your coconut milk or almond milk before adding your keto cereal. Cocoa powder is full of theobromine, which can help fight heart disease, cancer, and reduce inflammation in the body. This is perfect for keeping your keto cereal full of chocolatey goodness while maintaining a low carbohydrate intake within your ideal range of daily calories.
What to Look for in a Keto Cereal Ingredients List
Once you've decided to incorporate keto cereal as a part of your diet, be sure to familiarize yourself with what cereal doesn't fit your keto lifestyle. The best thing that you can do is to know what brands you're not looking to have in your diet and avoid them. Some traditional cereal ingredients that don't fit into keto recipes to avoid in include:
Whole Grain wheat
Wheat flour
Sugar
Maltodextrin
Potassium chloride
Now that you're familiar with some of the culprits, how can you best avoid them? The truth is, most regular grocery stores are packed with highly processed food that simply doesn't fit into a keto lifestyle. The best way to avoid the temptation of traditional cereals is by visiting specialty grocery stores that cater to healthier lifestyles. You can also check the organic aisle at your local supermarket.
What you should look for is a keto cereal that is low-carb, has plenty of fibre, and has a decent serving of protein. Keto cereal that is high in fibre will have fewer net carbs, which is perfect for incorporating into your keto lifestyle. Also, rather than being sweetened with sugar or other artificial sweeteners, look for healthy alternatives like stevia, erythritol, and xylitol.
Alternatively, there are other healthy natural sweeteners, such as monk fruit and honey, however, sometimes these can be higher in calories. Pay close attention to the number of carbs that are in each serving, since higher amounts are what you want to avoid when it comes to keto cereal.
Introducing the Best High-Protein Keto Cereal in the UK
We've got good news! Your search for the best keto-friendly cereal just got a whole lot easier. There's a new brand pioneering cereal in the United Kingdom — Surreal.
Surreal makes it easy to get your sugary cereal fix with their delicious keto recipes… only without the added sugars! Not only does a daily bowl of Surreal fit a low-carb diet, but the fun flavours bring back childhood nostalgia. It's so delicious that even non-keto dieters can't seem to get enough of it.
Surreal is a low-carb cereal keto fans will love. It's changing the game and redefining a high-protein food category. In addition to being packed with nutrients, it's also loaded with 15 grams of protein, which many keto cereals tend to lack.
That means, by opting for a bowl of high-protein Surreal as opposed to another brand, you're keeping your blood sugar balanced and managing sugar cravings throughout the day. Be sure to pair your delicious cereal with unsweetened almond milk or coconut milk as a healthier substitute for cow's milk. Almond milk is low in calories and won't raise blood sugar, while coconut milk is full of antioxidants, has anti-inflammatory properties, and aids in weight loss.
Once you try a box of Surreal, there's no going back. Whether you stick with the keto lifestyle forever or decide it's not for you, we can guarantee you won't want to give up your new Surreal breakfast routine. Get yours today!